Park Mansion's Empire Suite
Serviced Empire Suite is the latest creation of architect and interior designer Charles.
The location is most likely one of the best in the centre of Amsterdam. Major museums as Van Gogh and Rijksmuseum and Contemporary Art Museum are around the corner and the canals are within minutes walking distance  ALL Amsterdam major attractions are in WALKING DISTANCE from GARDEN SUITE.
The spectacular bedroom  has a very comfortable double bed with a top-notch 'Hastings' mattress. On top of this mattress is a "top mattress" from finest duvet. The bedroom is most likely one of the most impressive bedrooms one has ever seen! The walls are decorated with velvet wall covering, an 18th cent. Italian mirror, a Russian 18th cent. chandelier and 23 late 18th century coloured Pompeian style engravings.  The wainscoting is in fabulous and precious marbles like Porphyry, Yellow marble and Lapis Lazuli. The ceiling is a 19th century copy of a decoration from the "Domus Aurea" in Rome.
The bathroom includes a "rain" shower from the ceiling, wash basin, floor heating and towel heating.
A comfortable size kitchen includes a dishwasher, a fridge, a water cooker, a Nespresso coffee machine (including coffee cups) and a microwave / conventional oven.
Chilly evenings will be warm and full of cosy atmosphere with a wood burning fireplace and candles.
The suite is located on the second floor. The staircase is considered luxurious and wide compared with 'regular steep stair cases in Amsterdam'.  A large fresh flower bouquet in the entrance welcomes every visitor to the house. While at prime location in the centre of Amsterdam it is surprisingly calm and tranquil.  A quiet street that serves mainly residents and no tramways.
There are 2 large windows and doors opening to a French Balcony on the front. View is into the trees of the Vondelpark. The bedroom and kitchen – dining is on the quiet rear of the building and looks out on lush gardens, an oasis of calm and green in the middle of the city. The view is mainly of trees and gardens.
Charles, the owner, or any person replacing him is on the spot and can assist within minutes. Discrete, unobtrusive service is main objective.
Facilities & Services
The price of this designer serviced suite includes:
Fully stocked kitchen with all thinkable upscale fresh food / drinks including wines, snacks: variety of cheeses, different cold meat cuts, milk, eggs, different juices, yogurts, coca cola, butter, garlic cream cheese, regular cream cheese, different jams, smoked salmon, several cereals, different chips, variety of nuts, different cookies, different teas, variety of capsules for superb NESPRESSO fresh coffee, basic kitchen amenities (sugar, salt, pepper, olive oil), packages with different dry soups, crackers, Nutella, bread, white and red wine, beers, sparkling mineral water; fruits;

FIREPLACE!

NESPRESSO espresso machine including a variety of coffee capsules;

Orchid plants and fresh flower bouquet;

fast WIFI;

Bathrobes  in various sizes and slippers;

Candles;

Iron + ironing board;

Latest top quality high resolution TV, DVD;

Duvets / blankets / pillows fitted to your comfort;

4 large goose quality down pillows per bed;

Top-notch 'HASTINGS' mattress with an additional duvet top-mattress;

Towels;

Hairdryer;

Air conditioning;

"Honesty bar": a selection of liquor at your disposal;

Cleaning on departure;

During one week stay: general cleaning during stay.

FRESH FLOWERS! (refreshed during stay)

Housekeeping and laundry service at any time available during a stay on request and with a modest actual cost.
Reviews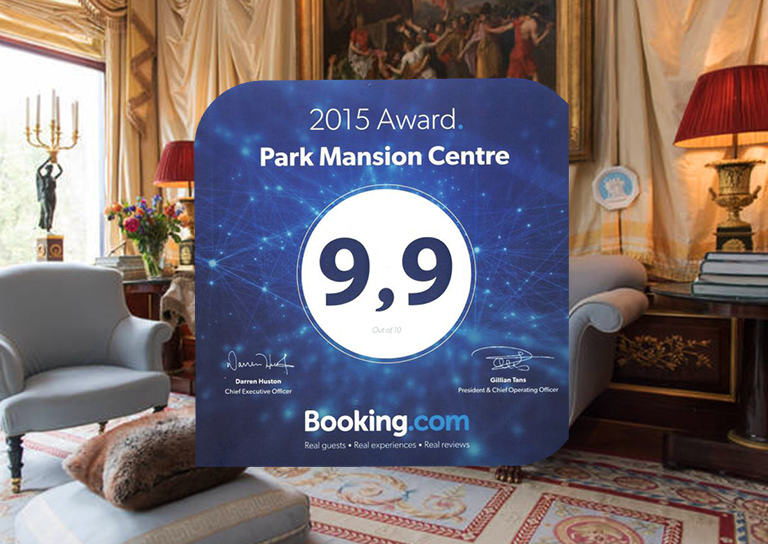 Serviced Empire Suite has been chosen by clients from the biggest reservation site in Europe for hotels 'Booking.com', as one of the best accommodation in Amsterdam of all 1046 listed hotels with an average of 9.9 points out of 10.
See the comments via this link.
You can also see more reviews on TripAdvisor.  For more information and guest comments see this link.
Location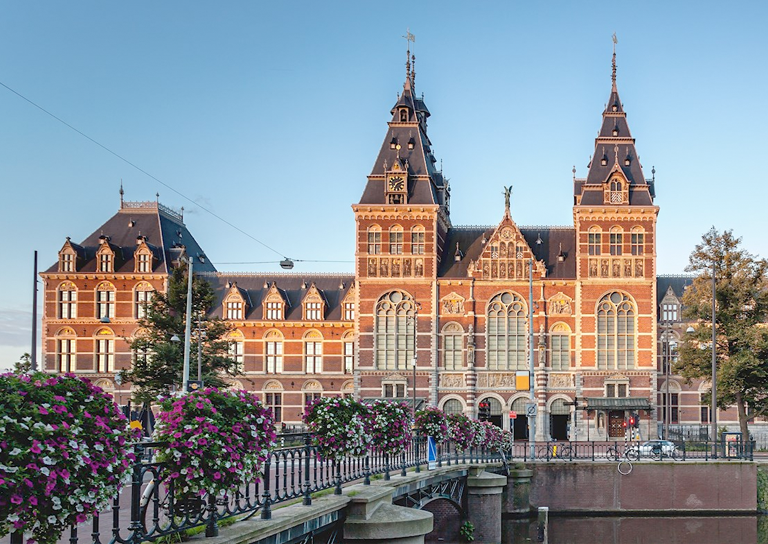 The Rijksmuseum, Contemporary Art Museum ( Stedelijk Museum)  and Van Gogh Museum are around the corner. The Amsterdam's upscale shopping street of P.C. Hoofstraat is around the other corner. Bustling "Leidseplein-square" area with hundreds of cafes, restaurants, cinemas, theatres, clubs is on 4 minutes walk. The canals are within minutes walking distance. The first ring of canals starts near the beginning of the street.
You may also see the actual location by google-street on 360 degrees around.
Interested in booking The Empire Suite?
Please contact our team for suite availability or any other questions! We look forward hearing from you.
Contact us